Supporting the Westerly Morris Men
ENJOY: The Westerly Morris Men live to perform, so if you would like to come see us dance, find out where we will be and when by checking on the Events page. It's sparse so far, but new events keep presenting themselves throughout the year, so we expect 2019 after the Vernal Equinox to fill up like 2017 did.
STAY INFORMED: The Westerly Morris Men have an occasional email newsletter to let you know about upcoming events, report on past events, or provide historical photos and stories. See the archived inaugural issue HERE. Sign up by clicking on the image below.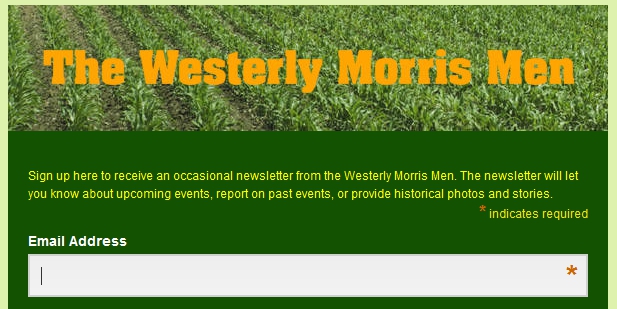 INVITE: If you wish to invite the Westerly Morris Men to perform at an event, please contact Squire Peter Leibert at phone # 860-887-9184, or send an email to the Web Master at westerly-morris-men@cox.net.
JOIN: If you wish to support the Westerly Morris Men, the BEST thing you can do is come to a practice and see if you might consider joining us. There is no obligation to join if you visit us, as many have done in the past. Being a traditional mens' team, only men can be dancers. However, both men and women are eligible to be musicians. If you would like to give us a look for a fun Tuesday evening, please contact us in the same way as above.
Copyright © 2012-2019 by E and I Services, LLC. All rights reserved.