Singing with the Westerly Morris Men
Yes, we used to sing, and sometimes we still do!
I first met the Westerly Morris Men singing. I just didn't know it at the time. The Mystic Contradance used to be held at the Stonington Community Center. Afterwards, great numbers of the dancers would retire to the Seahorse Tavern in Noank, Connecticut, for hours of loud and wonderful pub singing, often led by Herb Nickel of the Westerly Morris Men.
This page has been created as a tribute to Herb Nickel, who moved to Arizona where he met his end peacefully on June 22, 2017. It is also a tribute to his late wife, Joan Nickel, who passed away on December 5, 2013, consequent to injuries from an auto accident. Joan was similarly gifted as a musician and Morris dancer. This web page functions as a place for singers of songs to find songs to sing.
Music by Samuel Sebastian Wesley, 1864
First verse by William Sternberg, May 1988, enroute to The Quail Ale
Remaining verses, Traditional
2. The Lantern Hill Song
Music Traditional, Tune of "Farmer's Boy"
Lyrics by Peter Leibert, 2009, posted on THIS web page.
Can be heard in THIS video.
Morris aficionado Phil Carmichael put together in one 400+ volume an archive of lyrics to many of the best songs and ditties sung at 'post dancing' sessions, ales and other occasions. You can access this massive body of work HERE at the The Morris Ring website.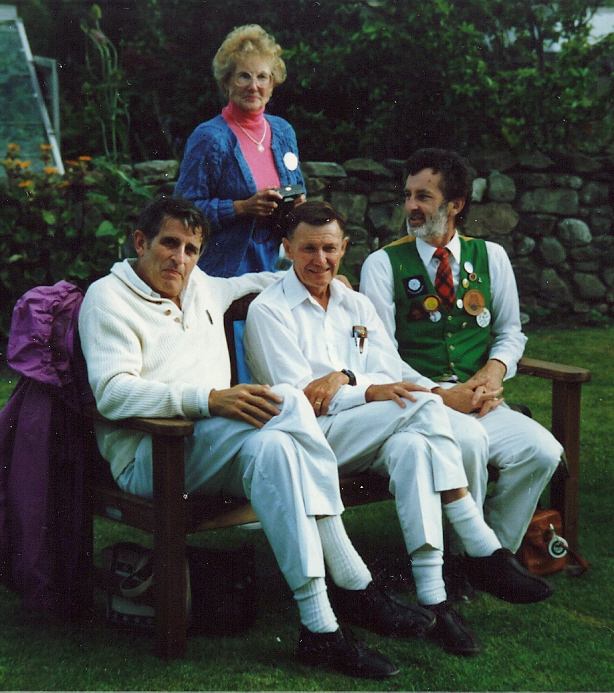 Herb Nickel (L), with Wally and Carol Fenn and Everett Munro (R)
Scotland 8/13/87
Copyright © 2014-2018 by E and I Services, LLC. All rights reserved.