THE WESTERLY MORRIS MEN PAGE
Largely as created by original web master Terry Crandall in July 2005
Peter Leibert organized the Westerly Morris Men in 1974. The tradition that we dance is primarily Cotswold. We dance Bampton, Adderbury, Bledington, Litchfield, Fieldtown, and Headington. The Westerly Morris Men practice two or three Tuesday nights per month at 7:30, in the community room over McQuade's Supermarket, on Main Street, Westerly, Rhode Island. Please email us if you plan to attend. Sometimes we cancel due to bad weather, lack of dancers, or the beer truck didn't come.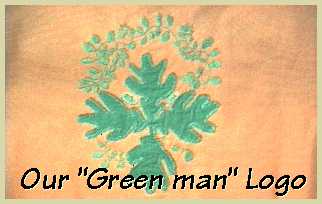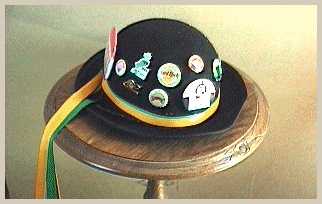 written by Jane Leibert
The English Morris is the modern survival of a primitive pre-Christian ceremonial of ritual dance and drama to insure and celebrate the renewal of Spring.
This rite once flourished over all of Europe and even today dances similar to the Morris can be seen in parts of France, Spain, Rumania, and Portugal.
Morris Dancers in the past frequently blackened their faces (a few teams still do) as a disguise, a practice which survived from the primitive ritual.
Morris dancing enjoyed a period of great popularity about 400 years ago and was widely used as an entertainment at court as well as in the country. The derivation of the word Morris is lost in obscurity. However, one popular theory is that when the original name and meaning of the rite were no longer remembered, the dance was called Moorish or Morris because the current word, at that time for black man was Moor.
The Morris Men's ceremonial dances celebrate the passing of Winter and the renewal of Spring and promote fertility in field, flock and man.
The Morris teams or sides, are often accompanied by their Hobby Horse, an animal-man. Westerly also has their "Hobby Horse" a recreation of a red North American Lobster, after it has been boiled.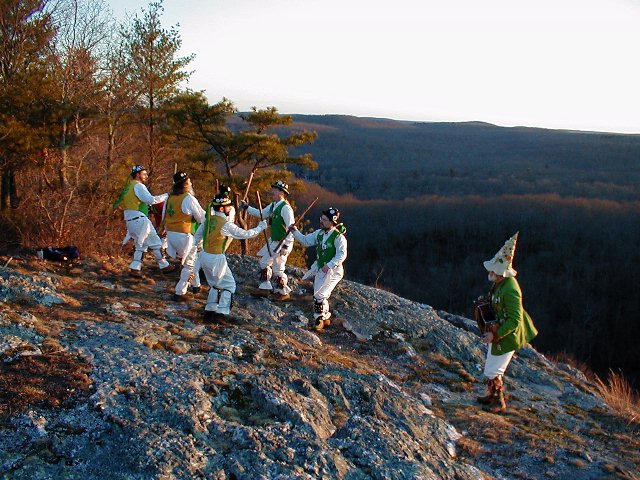 THE WESTERLY MORRIS MEN ON TOP OF LANTERN HILL
CELEBRATING THE FIRST DAY OF SPRING
COMPLETED PROMISE: LANTERN HILL - To the tune of "Farmer's Boy"
THE SUN IT COMES FROM BEHIND YON HILLS ACROSS YON DREARY MOOR WHEN POOR AND LAME SOME MEN THEY CAME THROUGH LANTERN HILL'S BROAD DOOR.
CAN YOU TELL ME IF HERE IT BE THAT I CAN FIND GREAT JOY
I'LL DANCE AND SING; DO MOST ANYTHING TO BE A MORRIS BOY.
WELL KNOWN FOR FAME A TEAM THEY CAME TO DANCE FOR ONE DANCE MORE, YES, T'IS WESTERLY THAT COMES THIS DAY TO MAKE YOUR SPIRITS SOAR.
THE TIME IS RIGHT; SHOULD BE LATE NIGHT TO CARRY ON OUR WILL, TO CLIMB AND TRUDGE UP THROUGH THE SLUDGE WAY UP ON LANTERN HILL.
AND WHEN THE SUN HAS FULLY COME OUR DANCE AND SONG MUST END, OUR SOULS AND SPIRITS ARE COMPLETE, OUR LIVES ARE ON THE MEND.
SO DOWN THE HILL WE ALL MUST GO REVIVED WITH WHAT WE FEEL; WE'LL BE BACK NEXT YEAR TO GREET THE SUN WAY UP ON LANTERN HILL.
Peter Leibert, Squire, Westerly Morris Men. March 20th, 2009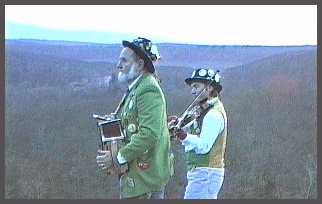 "Founder Peter Leibert and son Damon"
Vernal Equinox 1997 on Lantern Hill, Connecticut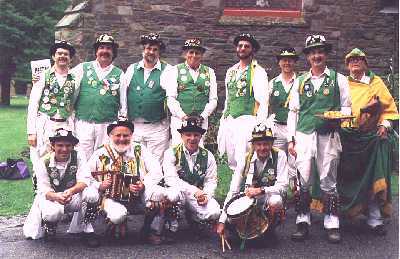 Back row left to right:
Allen Lawton, Terry Crandall, Rick Larson, Bagman Emeritus Herb Nickel, Kurt Hanson, Norm Dudziak, Hal Walker, Everett Munro,
The Late Bagman Emeritus and Hobbyhorse George Utter
Kneeling left to right:
Ian Patton, Musician, founder, & squire Peter Leibert, Scott Patton, Bagman Emeritus Wally Fenn
The Westerly Morris Men on YouTube
http://www.mainlymorrisdancing.org.uk/