MAY 1, 2017: 43rd ANNUAL MAY DAY SUNRISE DANCE AT CONNECTICUT COLLEGE
The Westerly Morris Men will celebrate May Day by dancing at dawn at Connecticut College in New London, Connecticut. May Day is a celebration of the arrival of spring with music and dance to assure peace and happiness throughout the year.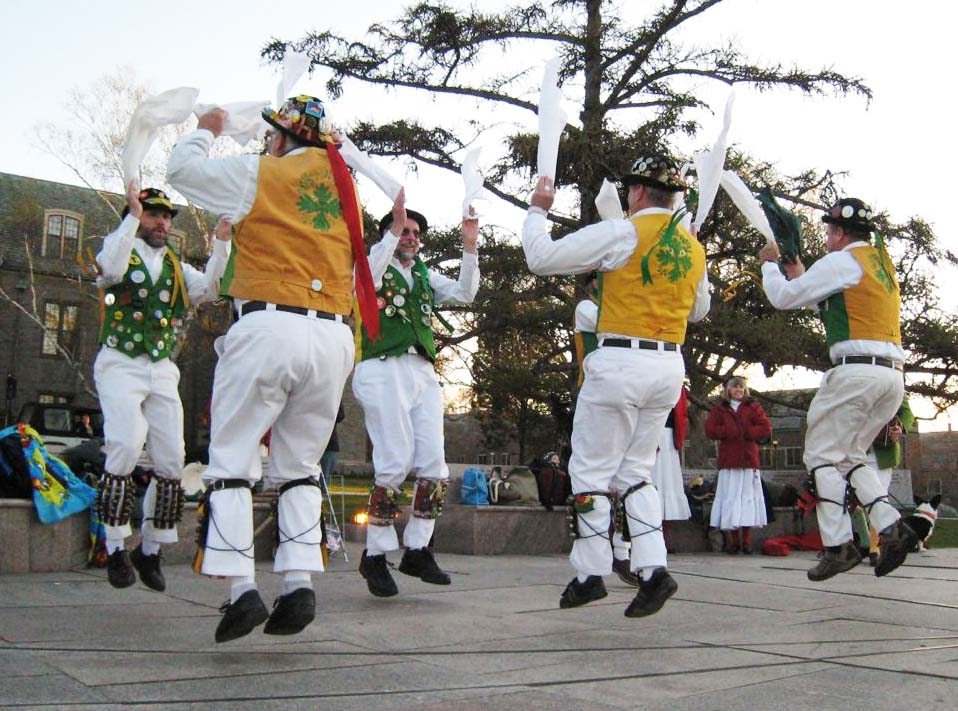 The Men Airborne at May Day 2013
Photo by Maureen Morris - Click it to enlarge.
Participants in the festivities will meet at the main college green (Tempel Green) in front of Blaustein Humanities Center at 5:30 A.M. on Monday, May 1. Sunrise will occur at about 5:45 A.M. EDT. (Source: U.S. Naval Observatory web site)
Connecticut College is located on Route 32 north of Route 95 in New London.
The May Day dawn dance was originally started by Peter Leibert, founder of the Westerly Morris Men and then-professor of art at Connecticut College. The Westerly Morris Men have danced at dawn on May Day every year since 1975, making 2017 the 43rd consecutive year of celebration at this time, almost always on this campus.
The public is invited and welcome to this open annual event.
"Morris is a traditional English form of ritual dance that was thought to have been performed primarily in the spring to assure that crops, beast, and man would thrive. Basically it was - and hopefully still is - a fertility dance," says Professor Emeritus Leibert.
The Westerly Morris Men were founded by Peter Leibert in 1974. They have performed in the British Isles on 4 tours, have been a regular feature in the Chorus of Westerly's Twelfth Night and Summer Pops, and have performed frequently throughout New England.
The Westerly Morris Men practice approximately twice per month on Tuesday nights at McQuade's Marketplace in Westerly, Rhode Island, and are currently seeking new dancers. To inquire about joining the team, please contact team founder and chief musician Peter Leibert of Preston, CT, at phone # 860-887-9184. You may also inquire about joining the team by sending an email to the Web Master at westerly-morris-men@cox.net.
For information about the event or background information on Morris dancing, please contact team founder and chief musician Peter Leibert of Preston, CT, at phone # 860-887-9184. The team also has a Facebook page.
You can sign up for The Westerly Morris Men's occasional email newsletter to let you know about upcoming events, see reports on past events, or see historical photos and stories.
If you will be nowhere near New London on May Day, but still would like to celebrate the day in a Morris way, here is a web site that will help you find another location to do so in North America.
This event occurs regardless of the weather, SOLELY at the discretion and risk of the participants. It is suggested that individuals having any concerns related to the weather enjoy a good night's sleep, get up early, and have their own personal celebration at home.
Happy May Day!
Copyright © 2017 by E and I Services, LLC. All rights reserved. Entities wishing to publicize or report on this event are welcome to quote extensively.